ABCs of the Parathyroid Glands What do you need to know it you have calcium problems.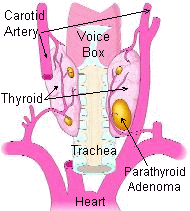 There are 4 parathyroids glands. We all have 4 parathyroids glands.
parathyroid glands are in the neck behind the thyroid.
Parathyroids are NOT related to the thyroid
parathyroid glands control body calcium.
Parathyroid glands make a hormone, called "Parathyroid Hormone".
Doctors and labs abbreviate Parathyroid Hormone as "PTH".
Just like calcium, PTH has a normal range in our blood
All four parathyroid glands do the exact same thing.
Parathyroid glands control the amount of calcium in your blood and bones.
Removing all 4 parathyroid glands will cause very bad symptoms of too little calcium.
When parathyroid glands go bad, it is just one gland that goes bad about 91% of the time. About 8% of the time people with hyperparathyroidism will have two bad glands. It is quite uncommon for 3 or 4 glands to go bad.
When one of your parathyroid glands go bad and makes too much hormone, the excess hormone goes to the bones and takes calcium out of the bones and puts it in your blood. It's the high calcium in the blood that makes you feel bad.
Everybody with a bad parathyroid gland will eventually develop bad osteoporosis–unless the bad gland is removed.
Parathyroids almost never develop cancer.
There is only ONE way to treat parathyroid problems–Surgery.
Mini-Surgery is now available that almost everyone can/should have. Do not have an "exploratory" operation to find the bad parathyroid tumor–this old fashioned operation is too big and dangerous.
Image Courtesy of parathyroid.com
Parathyroid adenoma.