Hypothyroid 101: When to Treat Subclinical Hypothyroidism? You treat when the patient has a goiter, or nodule associated with Hashimoto's Thyroiditis CHT and Subcinical hypothyroidism.
Dr.Guttler's comments on this article.
Of course there was symptom improvement, but the underlying Hashimoto's thyroiditis the main cause of hypothyroidism is still present.
Slow rise of TSH as the gland fails over years causes nodules and cancer to grow.
CHT is associated with an increase in thyroid cancer due to prolonged slow increase in TSH stimulated nodules and cancer to grow BEFORE the patient gets hypothyroid when the TSH rises above 10.
TSH slowly rising to 3,4,5,6,7,8 is subclinical without symptoms but with goiter growth and nodule formation.
Proven CHT is an indication for thyroid hormone therapy when it is first diagnosed. firm thyroid, positive antibodies and  subclinical hypothyroidism with TSH from 1-10.
Untreated CHT with subclinical hypothyroidism even in children can cause goiter, nodules and recently cancer in an 8 year old with untreated CHT from age 4.
Many do not treat until the child is hypothyroidism.
I do not agree.
If your physician wont treat your child with CHT with subclinical hypothyroidism call me for a consultation.
310-393-8860
DR.G.
Thyroid Hormone Therapy Not Beneficial for Subclinical Hypothyroidism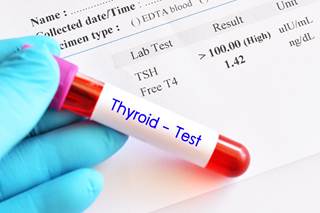 The use of thyroid hormone therapy in nonpregnant individuals with subclinical hypothyroidism was not associated with improvements in general quality of life or thyroid-related symptoms, according to study results published in JAMA.
"These findings do not support the routine use of thyroid hormone therapy in adults with subclinical hypothyroidism," wrote the investigators.
Although subclinical hypothyroidism is common in the general population, evidence is limited and inconclusive regarding therapy, and clinical practice guidelines vary in recommendations for managing subclinical hypothyroidism.
To evaluate whether thyroid hormone therapy was beneficial in a population with subclinical hypothyroidism, the researchers conducted a meta-analysis that included 21 randomized clinical trials with a combined cohort of 2192 participants. The primary outcomes were improvements in general quality of life and thyroid-related symptoms after a minimum follow-up period of 3 months.
Thyroid hormone therapy was associated with a reduced mean thyrotropin value, lowering it into the normal reference range vs placebo/no intervention groups (0.5 to 3.7 mIU/L vs 4.6 to 14.7 mIU/L, respectively). However, treatment was not associated with any benefit regarding general quality of life (n = 796; standardized mean difference, -0.11; 95% CI, -0.25 to 0.03; I2 = 66.7%) or thyroid-related symptoms (n = 858; standardized mean difference, 0.01; 95% CI, -0.12 to 0.14; I2 = 0.0%).
Treatment was "not associated with benefit regarding general quality of life, thyroid-related symptoms, depressive symptoms, fatigue/tiredness, cognitive function, muscle strength, blood pressure, or body mass index," the researchers concluded.