Does your Thyroid Ultrasound look like these examples? These are benign thyroid thyroid nodules with negative thyroid biopsies and molecular markers and do not need surgery.
They should be treated with Thyroid radiofrequency ablation RFA. Insist that you get referred to an interventional thyroidologist who can arrange a short visit to Italy for Thyroid RFA after the evaluation is done in the USA. It is hard to believe that the richest country still does not have thyroid friendly RFA system to treat you here. FDA has been dragging their feet in approval which is now due in March 2018. Call me for details.310-393-8860 or [email protected]
Solid nodules with cystic spaces are called spongiform and are benign.
They can grow large and cause symptoms in the neck and can be unsightly and cause a cosmetic problem for the patient. These are best treated with Thyroid RFA.
Grades of the amount of cystic spaces from 1-3.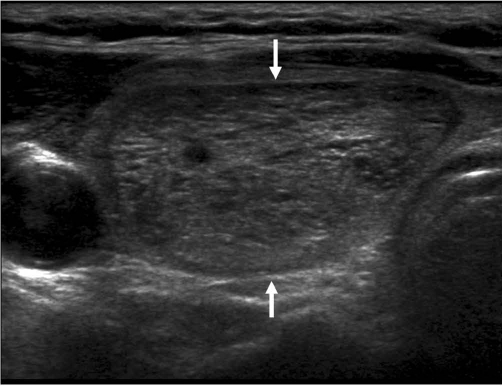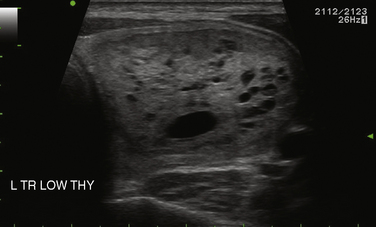 Spongiform nodule with mostly cystic spaces.
Benign colloid nodules are also treated best by thyroid
RF.
Solid benign thyroid nodules are also treated by thyroid RF
Benign thyroid nodule with halo and hyperechoic compared to the surrounding thyroid gland.
"happy face" complex cystic solid nodule
Complex cyst solid nodules with benign biopsy and molecular markers are candidates for thyroidRF.
Get mad as hell and send a letter to the FDA demanding they approve thyroid friendly systems from Korea, so we can join the rest of the world in having a safe alternative to the present referral to surgery.
DR.G.