First Test to Locate the Parathyroid Adenoma is a Endocrine Neck Ultrasound by an ECNU certified Endcrinologist.
Parathyroid Adenoma
Ultrasonography
The use of high-frequency 12- or 15-MHz transducers has become the standard for interrogating the parathyroid glands. The patient should be supine with his or her neck hyperextended. The examination should proceed from the carotid bifurcation superiorly to the sternal notch inferiorly and the carotid artery/internal jugular vein laterally
 Normal-sized parathyroid glands are usually not visualized with ultrasound. On gray-scale images, parathyroid adenomas appear as a discrete, oval, anechoic or hypoechoic masses located posterior to the thyroid gland, anterior to the longus colli muscles, and, frequently, medial to the common carotid artery.
 An echogenic line that separates the thyroid gland from the enlarged parathyroid gland can usually be seen. Larger adenomas are more likely to have cystic change, lobulations, increased echogenicity due to fatty deposition, and occasional calcifications. 
 Color Doppler ultrasound has been used to localize enlarged parathyroid glands. Parathyroid adenomas tend to be hypervascular lesions. An extrathyroidal artery may lead to a parathyroid adenoma in up to 83% of patients.  An extrathyroidal feeding vessel may provide a roadmap to an otherwise inconspicuous gland. Characteristically, the extrathyroidal artery enters at one pole of the gland (polar artery—a finding that can occasionally be appreciated on 4D-CT. See the image below. However, color Doppler sonograms of parathyroid adenomas may not show increased vascularity until the lesions are 1 cm in size.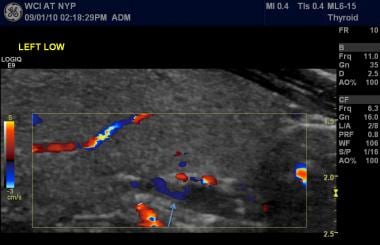 Ultrasound imaging with color Doppler interrogation showing a hypoechoic lesion posterior to the thyroid gland with a polar vessel sign (arrow).
The sensitivity of ultrasound in detecting parathyroid adenomas has been reported from 55-83%. Ultrasound is especially limited in the mediastinum, owing to a poor or absent acoustic window. The specificity of ultrasound in detecting parathyroid adenomas ranges from 40-98%.
 False-positive findings result when thyroid nodules, enlarged lymph nodes, the esophagus, longus colli muscles, and perithyroid veins are mistaken for enlarged parathyroid glands.
 False-negative studies result from small parathyroid glands; ectopic locations lacking an adequate acoustic window; and poor visualization of neck structures due to previous surgery,
thyromegaly, or body habitus. 
Comments:
Before the parathyroid scan you need to see certified ECNU endocrinologist for a neck study for a detailed neck evaluation to locate the adenoma and to look at the thyroid for a second disease in the thyroid before surgery.  Call Matt at 310-393-8860 if you need a parathyroid adenoma localization ultrasound.